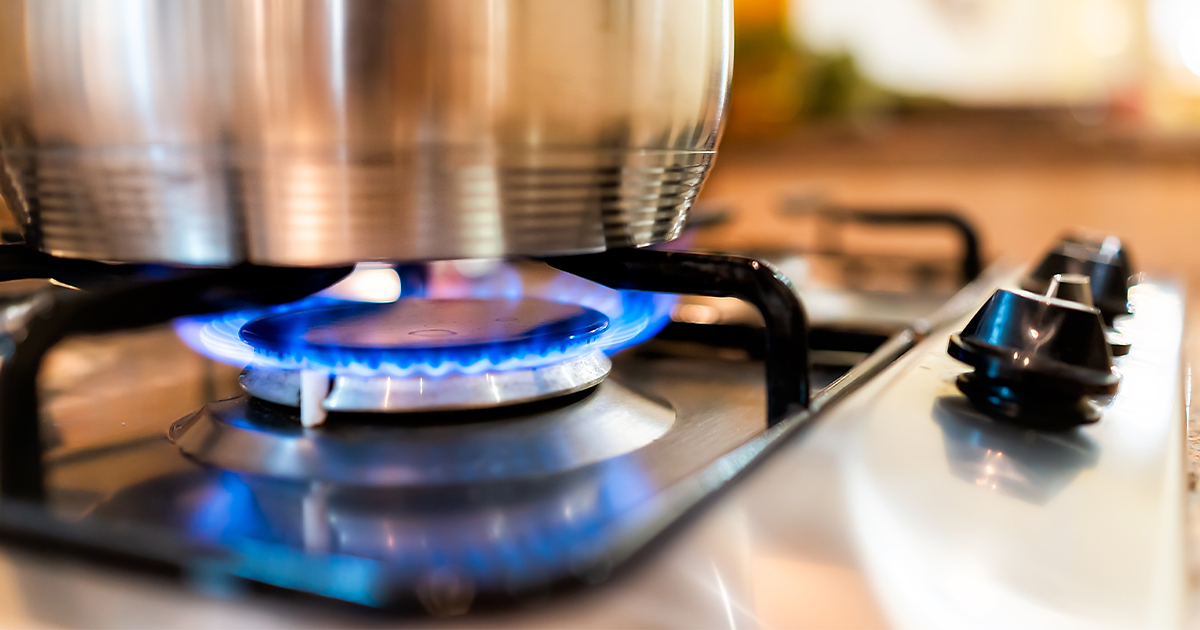 Whether you're preparing meals in the kitchen or firing up ribs on the backyard grill, cooking with natural gas is preferred by many looking for more control of cooking temperatures, easy cleanup and ways to save money. In this week's Gas South blog, we take a closer look at natural gas stoves and grills.
Natural Gas Stoves
From top chefs to your average home cook, natural gas continues to be a favorite in kitchens everywhere. It's easier to control cooking temperatures, cooks faster and, in most cases, is more energy efficient than electric stoves. This helps you save on your energy bill and helps reduce your carbon footprint—electricity is often produced at coal-fired plants. And because you're cooking with an actual flame, natural gas stoves also give you instant heat and the ability to char certain food items—a near impossible feat with an electric stove.
If your kitchen isn't already set up for natural gas or you're in the design phase of a new home, you'll have to have the appropriate gas lines installed.
Once you've got that detail taken care of, there are lots of stove options available on the market. Today's natural gas stoves come in a range of colors and finishes. And you can select a model with as few as two burners or as many as six in varying sizes to accommodate different pots, pans and other cookware. You'll also have options with the type of oven you want in your natural gas stove. Some come with convection fans to circulate heat. Others include air fryers and variable broilers. You can even purchase a smart natural gas stove that gives you control of your stove through an app on your phone or by syncing with a home assistant like Google Home or Amazon Alexa.
Natural Gas Grills
When it comes to ease and simplicity, natural gas grills are the best way to go for your backyard barbeques. Just like natural gas stoves, these clean-burning grills provide instant heat, a convenience you won't experience with charcoal or pellets that take time to reach desired temperatures. Plus, owning a natural gas grill means you won't need to buy or load charcoal or pellets in the first place, which makes cleaning your natural gas grill easy, as there's never any ash buildup to get rid of. And you won't have to stoke fires or adjust vents. Simply control the flame and temperature with the turn of a knob.
As we mentioned above in the section on natural gas stoves, you'll need to have access to a supply of natural gas. If you're not set up with a line to the back yard but your home already uses natural gas for other appliances, the process is a little easier than not having any gas lines at all. Simply have a qualified technician come out and run a new line from your home to your grill. If you don't have natural gas at all, a technician will have to run a line from the street, assuming there are already gas pipelines nearby that can be tapped into.
When you're good to go on getting a supply line run, you'll find you have just as many options for natural gas grills as you would for stoves—perhaps more, even. Along with an array of sizes and looks, you can find natural gas grills with options like infrared sear burners, which use radiant heat to prevent food from drying out; multi-fuel grilling, a sort of hybrid natural gas grill that lets you also use charcoal or pellets; and rotisseries that allow you to slowly rotate meat, helping you preserve the mouth-watering juices that roll across the surface.
We hope you found this article helpful. Natural gas remains an important source of fuel for all types of purposes in the home, and Gas South is proud to serve so many of you with affordable plans and excellent service.