We're taking it back to the basics! Your monthly natural gas bill from Gas South provides more information than you may realize.
Reading your bill shouldn't be a hassle, so we've created a tell-all guide to clear up any confusion and help you understand your Gas South bill.
Account Details: This section provides your account details at a glance. It lists your bill date, plan expiration date and whether you're signed up for a fixed rate, variable rate or OnePrice Plan™. If you're enrolled in a fixed plan, your rate remains the same month after month while variable rate plans fluctuate, according to market conditions. With our OnePrice Plan, you pay the same flat, monthly rate for the length of your agreement.
Monthly Summary: This table is a snapshot of what you owe this month. It includes your Gas South account number, any past due amounts you owe, current charges, your payment due date and the total amount that's due
Explanation of Charges: Here, we itemize the charges, fees and taxes associated with this month's bill.

On Fixed or Variable Rate Plan Charges:
Additionally, If you're not a OnePrice Plan customer, you'll see a listing for gas charges, which indicates the total cost of gas used during the billing period. The customer service fee is Gas South's cost of servicing your account, and the AGL Pass Through Charges are regulated charges on behalf of AGL. You'll also see a graph on the right that shows your natural gas consumption history.
Calculations/Bill Information: On each bill, Gas South provides more detailed information on your current charges. The grid encompasses readings from your meter. We then take the readings and calculate it by the thermal factor to obtain the amount of gas that is used in therms. A therm is simply a unit of heat, similar to the watts on your electric bill. Next, we multiply the therms by your current rate plan (e.g. $0.51 per therm) to determine this month's charges.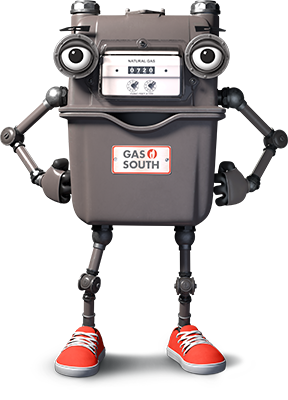 Understanding your natural gas bill can save you a lot of grief – and using natural gas efficiently can save you money! If you ever have any questions regarding your bill, please contact us at 1-877-472-4932 to speak with a Gas South customer care representative.