Gas South's Blog
07/11/2018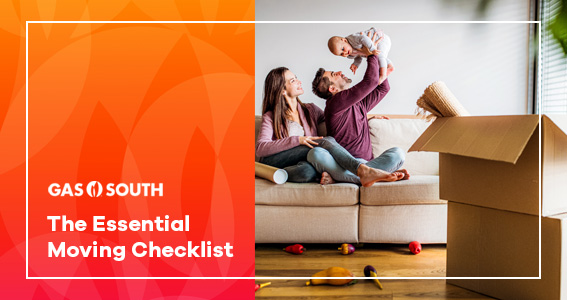 With Gas South, you get great low rates, never pay a deposit and you can schedule your service up to 90 days in advance. Plus, we'll give you a $50 bill credit using the code "MOVE" and exclusive discounts if you sign up as a new customer. To help make your move even easier, follow our convenient moving checklist.
2 Months Out
Begin cleaning closets, garage, basement, and attic.
Host a garage sale, donate items, and haul away what you no longer keep.
1 Month Out
2 Weeks Out
The Week of Your Move
Send a note informing everyone of your change of address.
Put together a first-night survival kit with first aid, paper goods, flashlight, scissors, etc.
Be sure all items are ready for the movers.
Deep clean the house.
1 Day Before You Move
Get cash and fill up on gasoline.
Change the locks on the doors of your new home and have sets of keys made.
Pack your suitcase. Include fresh sheets, towels, and toiletries.
The Day of Your Move
Once all belongings are loaded onto the moving truck, complete a final walkthrough.
Lock all windows and doors, and turn off the thermostat and all lights.
Enjoy your new home!