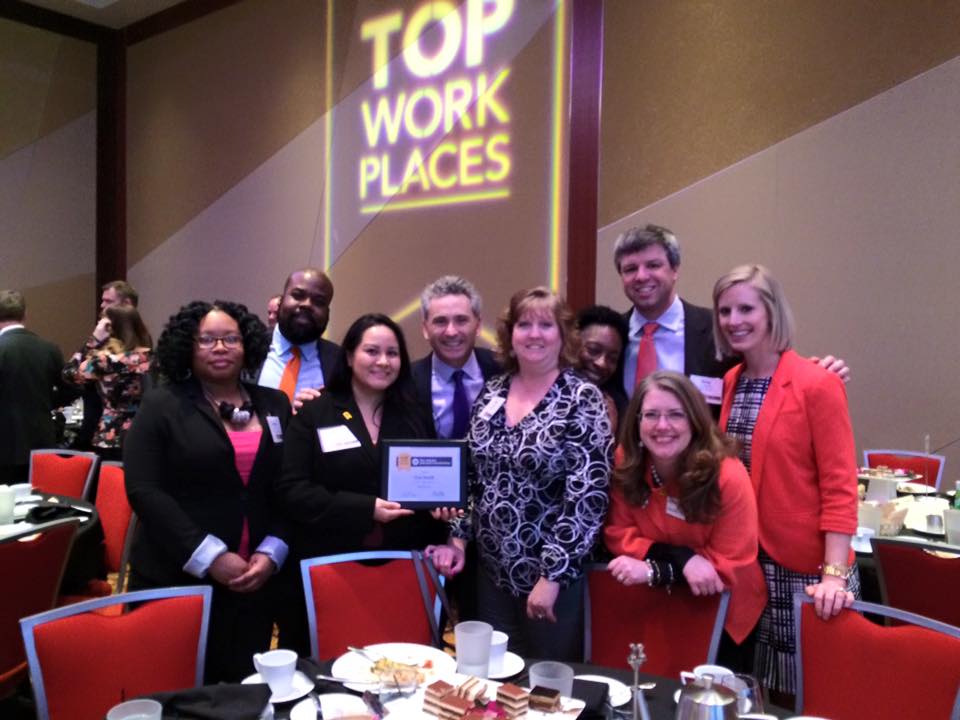 Last month, Gas South was named one of Atlanta's best places to work by the Atlanta Journal-Constitution (AJC). The award was a deserving recognition of our unique culture that values the contributions of all employees. According to the survey, Gas South's practices of encouraging new ideas and open communication of company decisions received the highest survey scores − earning more than 20 percent above the telecommunication and utility industry category average.
Gas South was the only natural gas provider to make the AJC's list and one of only two utility companies to receive the recognition ? the other being Carroll EMC. So, what makes us different from the rest?
The answer has to do with instilling a clear vision of the company's values and the role employees play in harnessing its development and growth. Kevin Greiner, president and CEO, refers to this as Vision 2020. Employees described Vision 2020 in the survey responses as a reason the company is a top workplace, with one employee saying, "knowing leadership can get everyone on board to move in the right direction motivates me to want to be part of making it happen."
The AJC and Workplace Dynamics nominated or asked more than 2,500 companies to participate in the contest. Workplace Dynamics, which conducted the survey on behalf of the AJC, then surveyed employees from 275 metro Atlanta companies. Almost 60,000 total workers participated in the survey and in order to be considered, each company was required to have a response rate of at least 35 percent. The survey asked numerous questions about employees' workplaces including the company has strong values and ethics, new ideas are encouraged, we do things efficiently and well, I feel appreciated, etc. Here are a few of examples of how Gas South employees responded:
"The company has increased my personal growth."
"I've been given the opportunity to grow and express my opinions."
"We are one big family and everyone works together!"
"Management is very involved with the company and employees."
"I admire the strong presence that Gas South has in the community."
The award is a fitting recognition for the company, especially for employees, as we celebrate our 10 year anniversary! We have quickly gone from a small company of 50 employees, to a market leader with more than 200 employees.
Gas South continues to work toward the company-wide vision of being the #1 natural gas provider in the Southeast, offering the #1 customer experience and being the #1 place to work. With this award, we're inspired to work harder and make the best even better!
To read more about AJC's Top Workplaces and to see the entire list, click here.