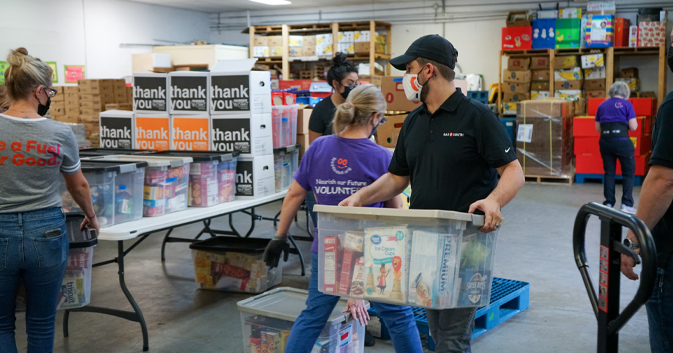 Gas South prides itself on being a company that makes a difference. Each year, as part of our commitment to give 5% of profits to help children in need, we give hundreds of thousands of dollars to various organizations in the communities we serve. And we've logged thousands of volunteer hours with these groups. We know giving back is the best way to build a better world, and there are lots of ways to do that.
This year, in honor of Giving Tuesday, we thought it would be fun to share six simple ways that anyone can give back. We hope they help inspire the giving side of your nature.
Look out for your neighbors.
It's often said that good fences make good neighbors, but lending a hand works even better. Does a neighbor of yours need help with yard work or picking up groceries? Or perhaps they could use a babysitter for a few hours or help walking their dog. Maybe they just need a good home-cooked meal. Take a few moments out of your day to check in with them. Even if they don't need any help, your offer alone will make a difference.
Practice random acts of kindness.
Each day, there are lots of opportunities to do nice things, even for people you don't know. Next time you're at a drive thru window picking up a meal, consider paying for the meal of the customers in line behind you. Kindness is infectious, and it's likely that person will go on to do something nice for some other person later that day.
Put in the time.
Your time is one of the most valuable things you have to offer. And no matter where you are, there's no shortage of organizations that need volunteers—there are even opportunities to volunteer remotely, if that's more your speed. If you need a little help getting started, check out VolunteerMatch.
Send love in a letter.
You might not be old enough to remember how good it feels to get a handwritten letter in the mail. But the personal touch of a handwritten message can make a world of difference, especially during the holiday season. Here a few letter-writing campaign groups to help you get started:
Make a difference while you shop.
While you're searching for your holiday gifts online this year, consider making your purchases through AmazonSmile. Through a separate portal on Amazon, It offers all the same items and benefits, but Amazon contributes a percentage of the purchase price to the charity of your choice.
Donate directly.
There are thousands of great charities out there in need of funding, though it can be daunting when trying to choose. If you're in the mood to donate and need a little help making a decision on who to give to, we've included a few of the great organizations below that Gas South gives back to each year.
United Way—

United Way focuses on advancing the common good in communities throughout the world through education, income and health. Donors can give back to specific locations in their communities or throughout the world

Click here to learn more or donate online

.

Salvation Army—

The Salvation Army helps meet the needs of about 30 million Americans each year, providing assistance with homelessness, food, disaster relief, rehabilitation, counseling and after-school care. Their charity is set up so contributors can donate locally, if preferred.

Click here to learn more or donate online

.

The Society of St. Vincent de Paul—

St. Vincent de Paul helps provide services locally and worldwide to the poor, suffering and the deprived. They help with rent, utilities, food and clothing.

Click here to donate

.