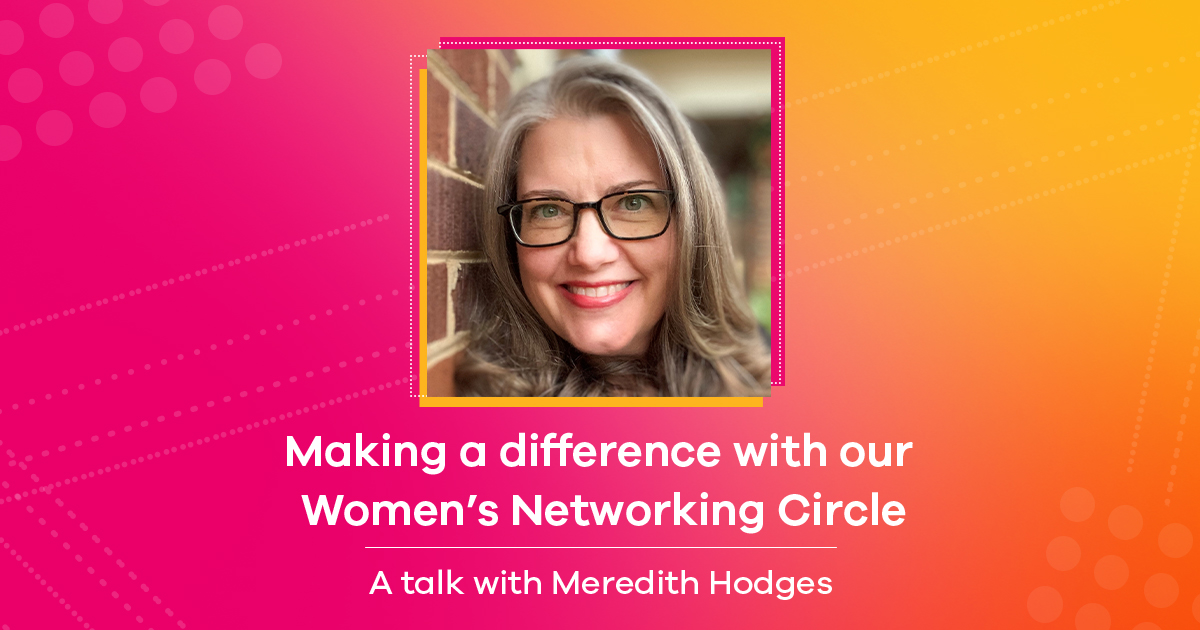 March 8 is International Women's Day, a time to celebrate women's achievements, raise awareness against bias and work toward women's equality. At Gas South, we take great pride in our own ongoing efforts to support diversity, equity and inclusion. So, to highlight one of the ways we do that, we sat down this week with our own Meredith Hodges, of Gas South Government Affairs, to learn more about how we're making a difference with our Women's Networking Circle.
Hi, Meredith. Can you tell me about Gas South's Women's Networking Circle—when it was started and why?
We kicked it off on November 17, 2016, with wine, cheese and a panel discussion addressing "elephants in the room." At that time, there were four women leaders at Gas South—Manon Brochu (Chief Operating Officer), Secret Holland (VP of HR and Community Affairs), Staci Parker (former Director of Sales) and me (former VP of HR & External Affairs)—who wanted to bring women together on a quarterly basis to network, hear from guest speakers and to discuss important topics.
The "elephant" concept was that each woman writes down the "elephant in the room" that we, as the female leaders in our company, need to know about. Topics could include pay, promotions, etc.
How is it organized, and what types of topics are discussed?
We generally mix up external speakers with presentations and discussions with internal leaders. That formula has pretty much remained the case since the beginning, though lately we've been doing more panel discussions. Over the years, we've also added events focused on networking and fun stuff.
In 2018, we started surveying women to determine what they wanted in events. Topics have stayed relatively consistent: communicating value, diversity, imposter syndrome, personal branding, balance and burnout. The following year, we started the Women's Networking Committee. Carley Stephens, our Manager of Community Affairs, currently chairs the committee—she was also instrumental in coordinating early meetings and has been a great leader and advocate for women at Gas South.
During COVID, we experimented with virtual social events—discussions, painting classes, movie nights, etc. We continue to build on that by trying to provide variety to women. Not everyone wants to hear a speaker. One woman might want the time to network with others outside her department, and another might value the random Starbuck's discounts we offer. Each woman is in a different place in her life and career, so you need the variety to ensure more touchpoints. It's OK that people don't participate in everything. Our hope, though, is that each woman connects at least once during the year.
What's your role with the group? Has there been a particular meeting that stood out to you, and why?
I did one of the first presentations on generational differences—it piggy backed onto a presentation here by author Grace Killelea about personal branding, generational differences and about her writing. I've always thought it was fascinating to learn how age groups end up with so much in common.
Writing my presentation, I discovered things about my own generation. "Drinking the Kool-Aid," for example, is something you're apt to hear from Gen Xers, but I didn't realize it was in relation to the Jim Jones mass murder in Jonestown, Guyana, on November 18, 1978, in which the leader laced Kool-Aid with cyanide, killing over 900 members of the Peoples Temple movement.
I was, however, most affected by our Millennials sharing their "normal" of school drills in case of shooters. That wasn't in my realm of experience, having gone to school before that new normal. It certainly gave me a lot of pause and better insight into the Millennial psyche. My daughter is a Gen Z, so I'd never contemplated what these women worried about as kids.
I also really enjoyed facilitating a panel discussion of Gas South women leaders last year. We talked about career development and how to move up in the company. We had a great turnout for that event, and it was so much fun encouraging the dialogue between speakers.
Sounds like the Women's Networking Circle has been popular at Gas South. Any interesting stories or testimonials you could share? What do attendees say? What do you say?
We've gotten great participation in the events over the years and a good number of responses from our annual surveys. People like the variety, the speakers, content and giveaways—especially the Starbucks credits to women who've been nominated by peers for doing something meaningful.
I'll read a couple of quotes from our annual survey that was completed recently:
"You all have done a phenomenal job over the pandemic. Super high engagement, lots of love. Just impressed." —Betsy S.
"This is a unique committee that I have never seen in a workplace. It is a treasure! Thank you for all the thoughts and hard work that goes behind it." —Rosemary H.
It certainly takes a team to make this work with all the time it takes to plan and execute events. I've really appreciated getting to know other women on the team. It's been particularly nice to have former Infinite Energy women included in the 2022 Women's Networking Circle (Gas South acquired Florida-based natural gas provider Infinite Energy in December 2020.)
I'm one of the few Gas South "originals" here since day one—and formerly with Southern Company. It's been fun to watch the company grow and change over the years. Having affinity groups like the Women's Networking Circle is becoming more of a need as the employee base grows—going from 60 women at Gas South when the network was started in 2016 to 229 today. You need vehicles for people to connect and get to know each other outside their work team.
What are some of the challenges (if any) that you've come across with the Women's Networking Circle?
The biggest challenge is the time it takes to plan and execute events, write communications and generate engagement. Everyone has a lot on their plate, so all the work you see is a result of women carving out time during and outside office hours to make our offerings successful.
COVID has been a challenge as well. It used to be so easy to have drinks after work set up in the Woo-Hoo Room (so named for an old Gas South ad campaign) and women to show up and participate. We've been creative in devising alternatives, but I'm hoping soon we'll be able to mix up in-person and virtual.
With this last survey, we collected information on living locations and hobbies so we could encourage smaller get-togethers (we have employees throughout the Atlanta area and in Gainesville, Florida). That might look like the women in Acworth getting together for coffee or for a virtual book club or fitness enthusiasts working out together in Gainesville. I'm excited to see how we can facilitate more engagements throughout the year.
What are the future plans for the group?
We're planning quarterly touchpoints from each of our subcommittees to create variety and increase the likelihood of participation. Women might not be able to take part in something this month because of their workload, but perhaps that will be different in a few months.
Additionally, our Professional Development Subcommittee is spearheading efforts to design out-of-the-box training for our Customer Care representatives interested in becoming more qualified for specialist and coordinator roles.