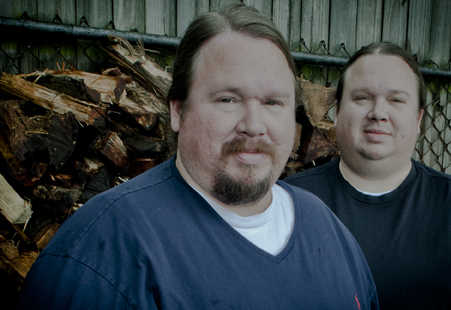 Texas-raised pitmasters and twin brothers Jonathan and Justin Fox are the dynamic duo behind Atlanta's famed Fox Bros. Bar-B-Q. And, they're Gas South customer.
In honor of National Barbecue Month, the restaurant dished out their recipe for its signature charred grilled wings. The recipe is easy to follow and best suited for a natural gas grill. So go ahead… gather your guests and get to grillin'!
Items Needed
24 jumbo fresh, split wings (2 pieces, wing tips removed)
Fox Bros. Original Barbecue Sauce (½ bottle, poured in a bowl)
Tongs
Basting brush
Meat thermometer
Gas grill
2 cold beers (to enjoy while cooking)
Getting the Grill Ready
Fire up that grill, and get it hot and ready. Start off on high heat to get the grill hot, or move heat to medium or medium-high if you are more comfortable cooking at that temperature.
Use the zone method, where you'll cook over both direct and indirect heat on the grill.
Light one side of the grill. For example, light the left side if the burners run left to right, or light the back burner if they run front to back. This will be your direct cooking zone.
Leave the opposite side off. This will be your indirect cooking zone, which will use the heat from the direct side when the lid is shut – like an oven.
Prepping the Wings
Take the wings and rinse them.
Pat them dry and place in a mixing bowl.
Season liberally with Fox Bros. Dry Rub.
Toss the wings with your hands to make sure the rub is evenly coated.)
Cooking the Wings
Take the wings out to the grill, and place them on the direct cooking zone – evenly spaced and not touching one another. Make sure not to crowd them. If you can't get all 24 wings on the direct cook zone at one time, then split up the cooking.
This is where you will char the wings, giving them that great grill color. You don't want to burn the wings, so keep an eye on them. After several minutes flip the wings over. Crack open a beer and enjoy it cold, while still keeping a close eye on your wings.
Once the wings have good char color on both sides, move them to the indirect zone. Close the lid, and the wings will finish cooking here – as if they were in an oven. After this, crack open that second beer and relax.
When the wings reach 160 degrees, grab the bowl of Fox Bros. Original Barbecue Sauce and your basting brush. Baste both sides of the wings liberally.
Close the lid and let the wings cook for 5 more minutes. Drink more beer.
After 5 minutes, you can either pull off the wings, or repeat the basting step for a saucier, stickier wing. Remove the wings from the grill.
Allow 5-10 mins to cool, place the wings on a plate and enjoy!