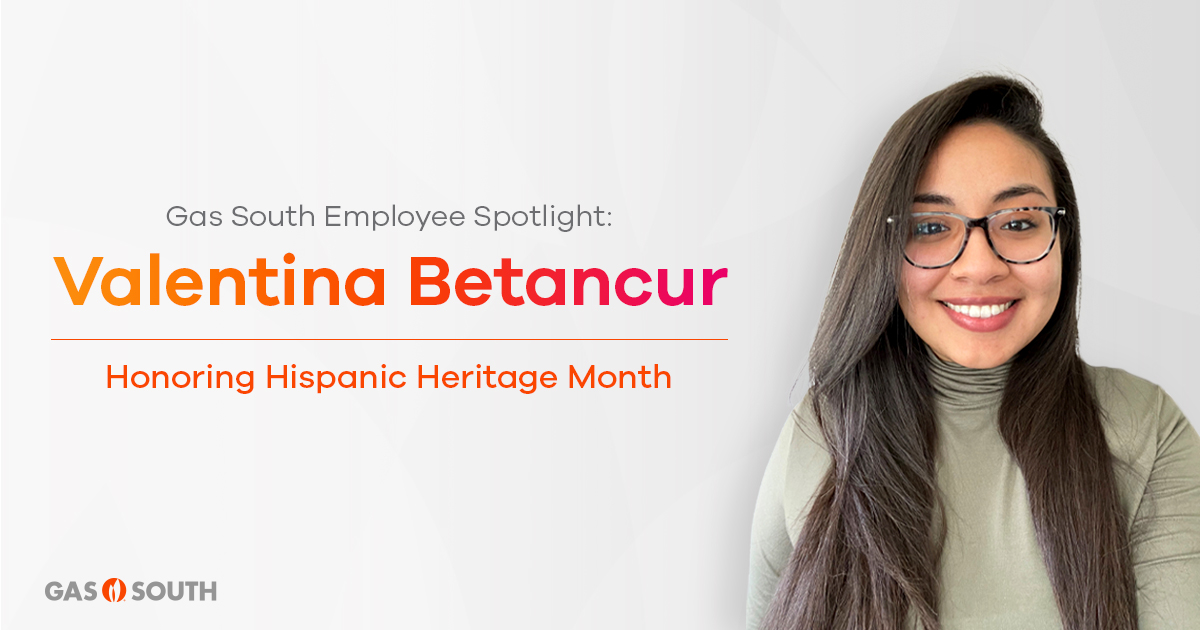 In this week's blog, we're spotlighting our very own Valentina Betancur in honor of National Hispanic Heritage Month—celebrated September 15 to October 15. Valentina started her position as Diversity, Equity & Inclusion Coordinator in March, and we were excited to catch up with her about her job here at Gas South.
Valentina, can you tell me a little about your background? Where are you from? What did you study in college and why?
It can sometimes be hard to answer that question as an immigrant because I consider myself "from" a lot of places. I was born in Medellín, Colombia, but moved with my family to Jacksonville, Florida, when I was 4 years old, and I grew up there. I do consider Jacksonville to be my hometown.
After I graduated high school, I moved to Gainesville to study at the University of Florida where I majored in both Economics and International Studies. I minored in both International Development & Humanitarian Assistance and Food & Resource Economics. It's a mouthful, I know.
Growing up in Jacksonville had a big impact on what I studied in college and why I'm in the role I'm in today. I grew up in a low-income area with an ethnically diverse population. I had friends from all types of backgrounds with experiences vastly different from mine, so I grew up listening and understanding other people's stories, their points of view and how their pasts affected their futures. Growing up in that environment planted the seed for what I would spend my college years and my career doing.
How do you spend your free time when you're not at work—any hobbies or hidden talents?
My favorite thing to do is to explore different cultures through food. I love expanding my palate and trying foods I would never have considered years ago.
Apart from that, I have a Russian Blue cat named Vlad who is very demanding of cuddles, and I have a small garden I try to keep alive as much as I can.
Can you tell me a little about your role here at Gas South?
I'm one of the Diversity, Equity, & Inclusion Coordinators (DEI) here at Gas South. I have a hand in most of the projects my team oversees. One of the most important parts of my job is to help ensure employees feel seen, heard and valued. Part of that means we must acknowledge that we all come from different backgrounds and celebrate those differences while creating space for conversation on how we can support and advocate for one another.
Another part of my job involves working with the team to constantly review our company practices. If there's an opportunity to make a policy or procedure more equitable for all, we're the team that works to make that happen. Mentorship programs are a good example of this. Some—like a program we're currently working on—can provide new skill development opportunities for otherwise underrepresented employees seeking higher-level roles.
What aspects do you enjoy most about your job and about working here?
The people are, without contest, the most enjoyable part of my job. Not only has everyone made me feel welcome since my first day at Gas South, but we often have challenging group conversations working in DEI about social issues that affect different communities. Every time we host these conversations, they've been successful, and that success is primarily due to the willingness of the people involved to be respectful yet honest. The people at Gas South not only help me feel comfortable, but they also help me be effective in my role.
As you know, we're celebrating National Hispanic Heritage Month right now. What does this time mean to you?
Hispanic Heritage Month for me is a time of pride and reflection. I'm proud of the accomplishments and contributions Latinos and those of Hispanic heritage have made in the United States. I truly believe our contributions have made this country a more equitable and fair place for all. It's something I not only take pride in but also use as inspiration. I reflect on the challenges the Hispanic community has faced and overcome. I also reflect on the struggles the Hispanic and Latino community faces internally. For example, this month our team is hosting a conversation around colorism and how it continues to impact this community.
What's the one accomplishment you're most proud of since you started here? Why?
My proudest moment so far has been the community conversation that we had regarding Juneteenth. It wasn't something I accomplished by myself. It was a group effort I'm glad to have been a part of. There were so many of my colleagues who attended who were willing to speak candidly about their emotions regarding Juneteenth and its history. It was a moment where many of us let down our guard to try and understand each other.
What advice would you give to young Latino professionals who are starting their careers?
My piece of advice is to be as authentic and true to yourself and your culture as you can. I believe many people, including myself, begin their careers thinking they need to conform to a certain mold to be taken seriously. I've realized that's not the case at all because it's your uniqueness that helps you succeed. When we bring our whole selves to work, including our culture and background, we can provide a different perspective that your team may not have had before. Authenticity is very valuable.
What Latino traditions or customs do you incorporate in your daily life or even professional life?
I'm not sure if these are qualities that are specific to the Latino and Hispanic culture, but I along with the rest of my immediate family are Colombian immigrants. The adversity that we've had to face immigrating and establishing ourselves in this country has taught me to be humble, empathetic and compassionate in any situation I am in. I bring these traits with me to the workplace as well, and it has helped me understand others and work well with them.