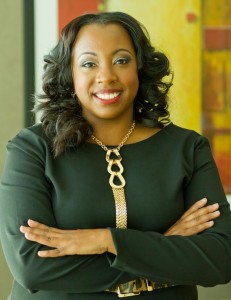 Roshonda Coleman, Senior Strategic Partnership Manager, has worked for Gas South since 2006, making an impact not only on the company but the Atlanta community. Coleman, a Louisiana native who now lives in DeKalb County, has fully embraced Atlanta as her home.
While at Gas South, Coleman helped launch the Alliance program, in which Gas South partners with local cities, counties and utilities to offer discounted rates on natural gas service to residents and businesses, while raising money for the partner organizations.
Coleman also helped Gas South bring its call center in-house, giving customers the opportunity to speak with a company representative who can best handle their needs. With the opportunity of the recent housing market rebound, Coleman introduced an emerging markets strategy for Gas South that included leveraging relationships with the Real Estate Partner Program (REPP), single family home rental companies, and building companies.
Coleman is an active member in the community and is passionate about working with young professionals in her volunteer roles with American Marketing Association (AMA) and Distributive Education Clubs of America (DECA). She took time out of her busy schedule to answer a few questions on community involvement and its importance in her professional life.
What projects and community organizations do you work closely with? How long have you been working with these organizations?
I've been a member of the American Marketing Association (AMA) for five years and was recently appointed to the organization's board. I have a professional background in marketing, which has led to my involvement with other volunteer organizations around the city. I definitely have a passion for working with young people, and I currently volunteer for Junior Achievement, Waller Scholars, Leadership DeKalb, and DeKalb Chamber of Commerce Education Committee. I am also helping to launch a Young Professionals blog series for the DeKalb Chamber.
What type of volunteerism do you do for these organizations?
I wanted to match my marketing background with educating young adults and helping them gain practical and applicable knowledge. Recently an opportunity with AMA allowed me to combine both of those passions by serving as the Distributive Education Clubs of America (DECA) chair for AMA. I'm really excited about this opportunity, as I am charged with helping to educate the next generation of marketing leaders.
What inspired you to become involved with these organizations?
We do on-site certifications with DECA, where we go to schools and they present school-based enterprise and new marketing platforms. I love it— that's how I became involved with the program originally. I went on an industry certification and judged DECA competitions for 9th through 12th grade and immediately knew this was a program I wanted to continue to work with. This past May the organization held its International DECA conference in Atlanta, and I served as a judge for that competition. It is amazing to see what young minds today are coming up with.
What do you enjoy most about volunteering in the community?
When you're able to see firsthand the impact you have on someone's life, that's payback enough. I get that with DECA when I see these students show their work and am able to give them feedback. I'm from a small town in Louisiana so I know first-hand the impact volunteers can have on someone's life.
What would you tell other Gas South employees who are considering becoming more involved in their communities?
Community volunteerism is very important to me and is something I believe everyone should set time aside for. One of my favorite quotes about giving back is from Truett Cathy: "Nearly every moment of every day we have the opportunity to give something to someone else – our time, our love, our resources. I have always found more joy in giving when I did not expect anything in return."
I think it's an impactful statement and it helps to guide the decisions that I make. If people keep that philosophy in mind daily they will truly be able to bring themselves and others joy.