As a company that's proud of our diversity, Gas South is pleased to celebrate Asian American and Pacific Islander heritage this month. In honor of the occasion, we sat down this week with our own Catherine B. to learn more about her and her Asian ancestry.
Hi, Catherine. Can you first tell us a little about your job here? What are your primary responsibilities as a Strategic Account Manager II. When did you start?
I started at Gas South in July 2020. My role involves working with our large industrial customers' day-to-day needs. I'm heavily involved in their contracting, billing and gas purchasing needs on a daily, weekly and monthly basis.
Were you always involved in this field? Tell us a little about your previous work and education.
I got a degree in Petroleum Engineering from Texas A&M, so I always knew I wanted to be involved in energy. Out of college, I worked in the oil field for Halliburton Energy Services (see picture below). That allowed me to get hands-on experience with oil rigs and where natural gas is produced at the source. In 2020, I made my way from Texas to Atlanta for the job with Gas South.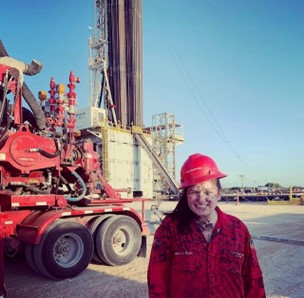 How did you hear about Gas South? And have you enjoyed working here?
I learned about Gas South from my college professor. She received the job posting from a previous employee, and I'm so thankful for the connection. I'm not sure I would have learned about the natural gas marketing world without it. Gas South has been a wonderful job and I really enjoy my role. There is so much opportunity to learn, and everyone here is so welcoming and excited to share knowledge.
What about the emphasis we put on celebrating diversity? Is that important to you as a young person with Asian ancestry?
I'm thankful Gas South puts so much emphasis on celebrating diversity. In my last job, there were only two women out of 400 employees, and there wasn't one Asian person and very little diversity in the department. Gas South not only encourages diversity but also celebrates it! I find diversity and different perspectives so important because it makes our workforce stronger.
Beyond Gas South's recognition of Asian American and Pacific Islander Heritage this month, why is it important that, as a nation, we come together to celebrate diverse heritages?
Learning other's cultures is so important. There are so many different traditions, foods, music and practices that we can all learn from and incorporate into our lives.
Can you tell us a little more about your Asian ancestry and about your family?
I'm half Vietnamese on my mother's side. They came over shortly after the Vietnam War, and I'm very grateful for all that my family sacrificed to come to the United States (See Catherine's family in the picture below). They left Vietnam on a boat and went to Singapore and from there flew to the US. They came here speaking no English and having hardly any belongings. They worked hard, saving everything they could and eventually owning multiple businesses. I'm so thankful for their bravery, tenacity and work ethic. Without it, there's no way I would be where I am today.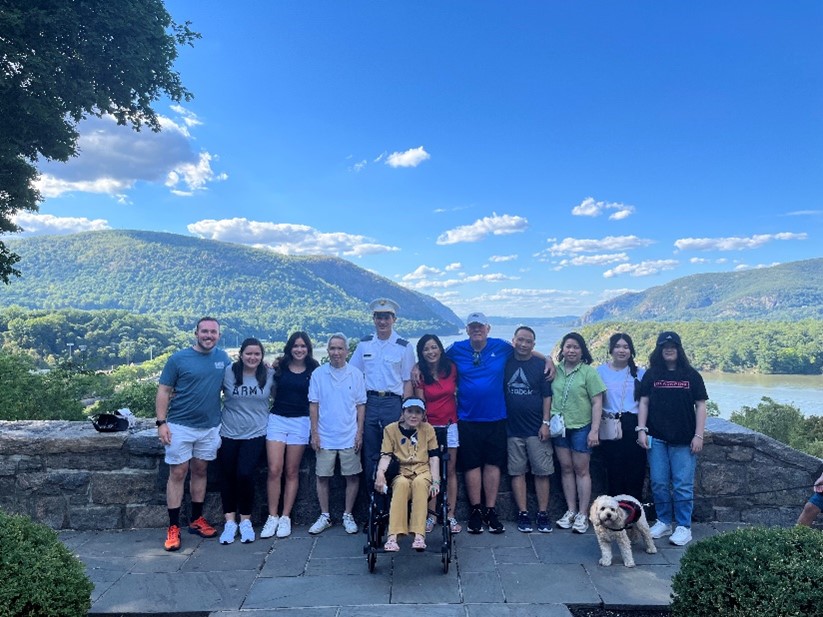 How has your heritage shaped your experience, and what are some of the favorite cultural aspects of your heritage?
I love all Asian food—it's my go-to request when we go out to eat. There are so many types of Asian food I would recommend people try: Pho, sushi, Korean barbeque, dim sum, hot pot, Peking duck, tom yum soup, Vietnamese coffee, and so many others just to name a few. Growing up, I felt like certain foods I ate were weird and not cool, but I'm thankful it's becoming more widely accepted and celebrated with time.
Asian media is becoming more popular overtime as well. K-pop and anime, for example, and one of my favorite movies that released recently is Crazy Rich Asians, featuring an all-Asian cast. Ali Wong, Ken Jeong, and Jo Koy are some great Asian comedians that have specials on Netflix.
I love that so many cultural aspects are becoming more mainstream and getting more recognition.
What do you do when you're not here helping to make Gas South a great place to work?
I love reading, hiking and cooking. I also love spending time with friends and family.
Gas South is proud to celebrate Asian American and Pacific Islander Heritage Month this May. Stay tuned as we highlight other heritages in the weeks and months that follow.