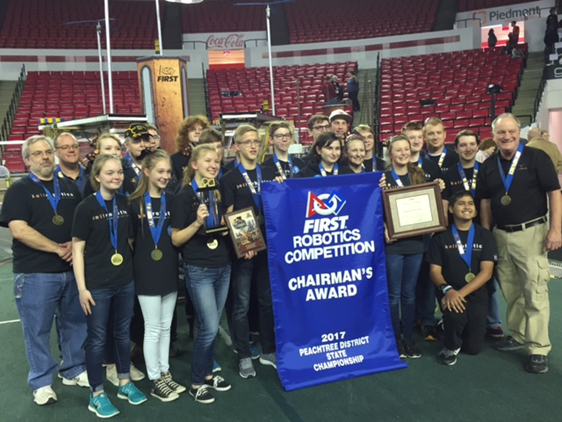 Mentoring the Kell Robotics Team through the STEM (science, technology, engineering, math) Leadership Foundation takes real heart – something Rajiv Thomas, Gas South systems engineer, knows well.
The Kell Robotics Team is a group of about 16 high school students who participate in two regional competitions each year in hopes of making it to the state championship and ultimately, the world championship.
Every January, competing teams take part in a kickoff event at Georgia Tech where they're tasked with building a robot in 60 days. That robot then has to complete a challenge to move forward in the competition.
Rajiv is part of a group of volunteers that mentor the team which meets at least twice a week to plan, design and build the amazingly efficient robot and ensure that it's ready for the showdown.
Last year, the Kell Robotics' team won the Chairman's Award at the Georgia State Championships to make it to the world championship in Houston. And even though their robot didn't place, the kids who get to learn from these experiences are the real winners.
"Anyone can build a robot and compete, "said Rajiv. "We push kids to problem solve on their own. We don't do the work for them – we just guide them. It's truly fulfilling to watch the kids think outside the box and work through obstacles."
The Chairman's Award recognizes teams for how they encourage STEM education – it honors the team that inspires others to get involved in STEM. The Kell Robotics Team has proudly won the award a few times.
"We encourage a love of STEM – and see our students become better people," Rajiv added. "When we were at the World Competition, the team from Israel was not able to get their batteries through Homeland Security. Our students offered to let them borrow our batteries when we weren't using them. That was a proud moment for me."
Rajiv tirelessly encourages students to grow outside the classroom. He's passionate about igniting the imaginations of young minds and is truly an inspiration to others who also have a desire to be a fuel for good.