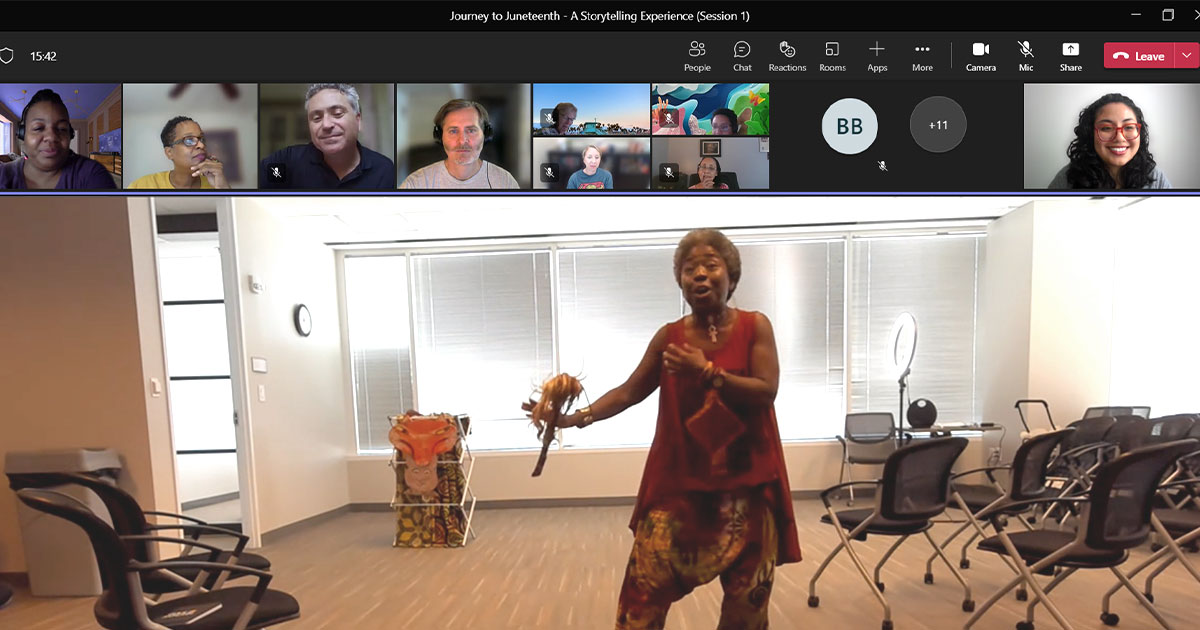 Although it only became an official federal holiday in 2021, Juneteenth is considered the longest-running African American holiday in the U.S., honored each year since 1866 to commemorate the end of slavery.
Slavery was officially abolished by President Abraham Lincoln in 1863 with the Emancipation Proclamation, but it continued in parts of Texas for more than two years afterward. The arrival of federal troops there to deliver an official decree on June 19 (Juneteenth), 1865, ended that practice. And we've been celebrating ever since.
This year, in addition to time off Monday, June 20, for employees to celebrate the Juneteenth holiday that happened on Sunday, we invited acclaimed Atlanta storyteller and author Donna Kokumo Buie (better known as Mama Koku) to share her spirited account of the African American journey to freedom with all of us here at Gas South.
"These stories are meant to keep us aware … to keep us learning and growing as humanity," Mama Koku said at the beginning of her presentation, standing in African garb and swaying to the beat of drums in front of a camera that sent her message out virtually.
The people of Africa—healers, farmers, scientists, teachers and more—were forced to come to these new shores against their will, she said. And throughout hundreds of years of brutality and oppression working to "raise up this new land," they persisted. They told their own stories, she said. They persevered, always whispering words of freedom until those whisperings grew into a voice so loud it could no longer go unheard—even, eventually, in Texas.
These days, "people are evolving," she said. "White, Black, Brown, Red … all colors of folk are coming together. Juneteenth, yeah, it's about the black thing, but it's also about us. All of us. It's about freedom. And there's still much to do."
After Mama Koku's presentation, we caught up with some of the folks here at Gas South about the day's event.
"Today's presentation was great," said Brianna B. "I enjoyed the energy the speaker portrayed to the audience, and she gave us an opportunity to participate. This storytelling experience was important because it was educational and provided us with a little history of African Americans and how they became free."
Betsy S. said, "Embracing Juneteenth as a holiday and learning the history of it is important in taking ownership of our country's dark history, which will make strides toward a more healing environment. I enjoyed the presenter's energy and the manner in which she presented the information."
"I love the idea of storytelling and sharing the history of why we all should celebrate Juneteenth," said Tonia P. "Being open to understanding the experiences of others is important to our own growth—learning from the inequities of our history so we can look back and say we have evolved into different people, more empathetic, loving and focused on true equality for all."
Aisha D., Gas South's Manager of Diversity, Equity and Inclusion, helped organize the event.
"I really enjoyed Mama Koku's ability to engage with people," Aisha said. "And I loved the African music she played, the way she dressed and the set pieces she incorporated at the end. I felt like I was watching a play."
"It's important for Gas South to celebrate Juneteenth because it fits in with our mission to 'Be A Fuel For Good," she said, adding that presenting opportunities to learn and take part helps build and maintain trust. "This story of Juneteenth can bring us together, and I appreciate coming into a space where people are willing to learn more about each other. And Gas South is all about that. In general, Diversity, Equity and Inclusion isn't easy, but the culture here is very collaborative and supportive, and that makes my work a lot easier."
Thanks for reading along. We hope you had a happy Juneteenth this year. Be sure to stay tuned for more blogs on some of the great things we're taking part in here at Gas South, where we strive to "Be A Fuel For Good."