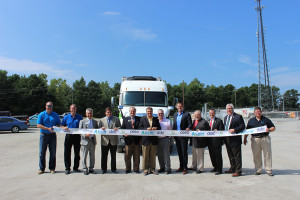 On Thursday, July 30th, Gas South, GAIN® Clean Fuel and Core-Mark opened Cobb County's first compressed natural gas (CNG) station, located in Smyrna, Georgia. This new addition to the Smyrna community, will fuel a fleet of alternative energy trucks.
CNG is a readily available alternative fuel made by compressing natural gas to less than 1% of its volume at standard atmospheric pressure. Natural gas stations provide fuel for 135,000 vehicles in the U.S., with 20 CNG fuel stations in Georgia alone. Natural gas generates up to 90 percent fewer emissions and costs about 50 percent less than traditional gasoline and diesel.
Gas South's team has been working hard for the last six years to see CNG become a reality throughout Georgia and in particular, the metro Atlanta area. By opening another CNG fuel station, GAIN Clean Fuel, with support from Gas South, is providing carriers with better access to a domestic energy supply that is both cleaner and cheaper than traditional fuels.
Gas South helps to connect the dots between customers interested in using CNG and station owners, so it's very important that we do everything we can to make these facilities successful. Gas South is the largest volume supplier of natural gas for CNG stations in Georgia and we are proud to have a number of facilities across the metro Atlanta area. Another plus to seeing more CNG stations open is that natural gas is abundant, domestic, inexpensive and clean – all huge benefits for our society and our economy.
"Projects like these show how great partnerships can succeed when working toward a common outcome that benefits so many," said Clean Cities Georgia Board Chair William Cook. "In addition to the many benefits of CNG, fewer emissions will be produced which is good for the environment and for all of us. Plus, utilizing CNG helps create energy independence for America."
Core-Mark's commitment to a CNG program began with an initial conversion of its fleet. Today, there are 179 Core-Mark CNG tractors on the road with more planned in the future.
The other three stations in operation through this partnership are located in Aurora, Colorado; Sanford, North Carolina and Forrest City, Arkansas. A fifth station is under construction in Tampa, Florida and is scheduled to be in operation later this summer.
Click here to learn more about Gas South's Compressed Natural Gas Solution.